HOLIDAY WALKS IN NORFOLK
Before you view our walks in Norfolk, please spare a thought for an area of Norfolk which is fast being destroyed by the sea, and is desperate for government aid:
Norfolk Coast At Risk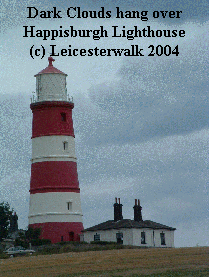 As many people will know, the Norfolk Coast is among the fastest eroding coastlines in Europe. Several Villages are threatened, perhaps the most famous (and most serious) of which is Happisburgh. Famous for its striped Lighthouse, this old village is gradually falling over the edge of the cliffs. The Government is refusing to provide the £2,000,000 it would need to provide adequate defences for this village, despite having made £26,000,000 from the dredging of the North Sea nearby, which is probably the cause for the increased erosion.
This community are in desperate need of help - so please click here to visit the website, and sign the petition before it's too late.
---
Walking Regions:
Snowdonia - Peak District - Lakes - Cornwall - Norfolk - Lincolnshire Wolds
Yorkshire Moors, Dales and Wolds - Dartmoor - Exmoor - Pembrokeshire Coast