HOLIDAY WALKS
Most of us walk mostly in Leicestershire. However, when you go on holiday, whether it be a long weekend in the lakes, a week in Norfolk, a fortnight in Wales, or a month in Scotland, you have to leave your favourite walking website behind. Well... not any more. In this section of the site, we will be putting a few walks from popular holiday areas in the UK, and maybe even abroad.
The holiday walks will centre around the National Parks, but walks in other parts of the country will be included.
Walking Regions:
Snowdonia - Peak District - Lakes - Cornwall - Norfolk - Lincolnshire Wolds
Yorkshire Moors, Dales and Wolds - Dartmoor - Exmoor - Pembrokeshire Coast
WALKS COMING SOON:
The Norfolk Coast Path / Peddars Way (G. Thomas/A.Wells)

Short Walks around the Northern Lakes (D. Spencer)
Norfolk Coast At Risk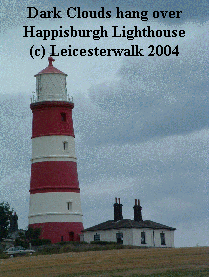 As many people will know, the Norfolk Coast is among the fastest eroding coastlines in Europe. Several Villages are threatened, perhaps the most famous (and most serious) of which is Happisburgh. Famous for its striped Lighthouse, this old village is gradually falling over the edge of the cliffs. The Government is refusing to provide the £2,000,000 it would need to provide adequate defences for this village, despite having made £26,000,000 from the dredging of the North Sea nearby, which is probably the cause for the increased erosion.
This community are in desperate need of help - so please click here to visit the website, and sign the petition before it's too late.