Starting from the church in Ashby Magna, walk North along the road. At the end turn right. The road bends to the left. At the junction, turn left, and then take the footpath along the track on the right.
Follow this path along the track between fields until you reah the Leicestershire Round. Turn right, and walk along the Leicestershire Round footpath until you reach the road. At the road turn left.
At the corner there is a road going off to the left. Just after that road is a footpath, also on the left, take this path, emerging in Willoughby Waterleys. On the main road, turn left, walking up to a footpath leading past the church, then out by the cemetery, still following the Leicestershire Round. At a track, turn left, then right (still following the Leicestershire Round) and keep on the footpath to Peatling Magna.
In Peatling Magna, turn right onto the road. At the crossroads, take the Leicestershire round footpath (ahead and on the left)walking across fields. Keep on this footpath until you reach the road at the edge of Bruntingthorpe. Turn right, and walk along the road, bending left then right again.
At the main junction, turn right, and keep on this road until the corner. When the road bends, walk straight on along the footpath, past the Manor House, then follow the field boundary. Keep on this path to Peatling Parva. Cross straight over the road, and walk up a path by the church, then bend off to the right. At the track turn left, and where the tracks cross (on the corner of the woods) turn right. When you reach the lane, turn left again.
At the road, turn right and walk west along the road. Then, at the bend, take a footpath on the left, to the church, where you will be back at the start.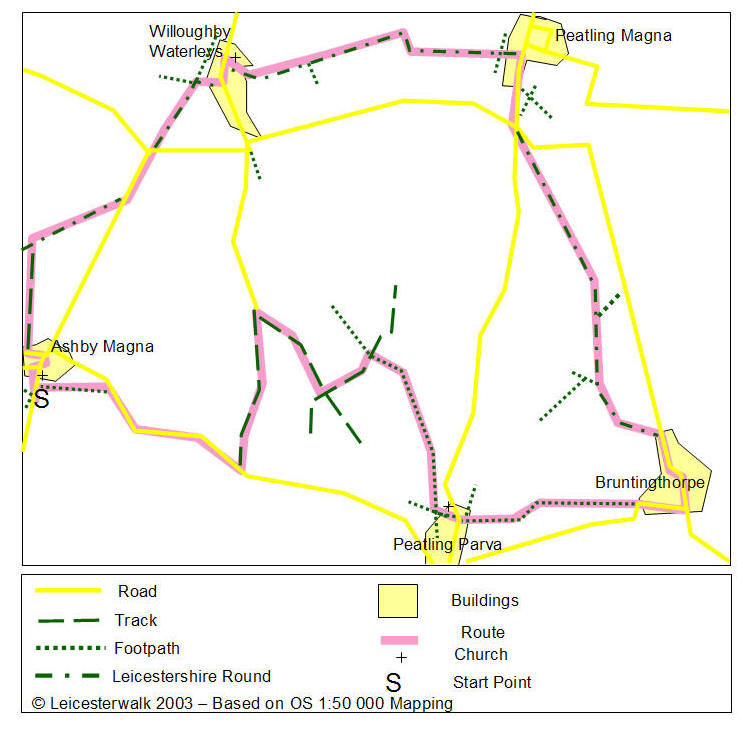 Disclaimer - We cannot accept responsibility for any loss or injury caused during walks found on this site. Whilst we make every attempt to ensure accuracy of information, rights of way or landmarks may move or change. We advise you always carry the relevant OS map with you.